The time was 2008. 10-year-old Nazmul Hossain Shanto was playing cricket on the street in front of the house with a neighbor child. Just then Munnu, a volleyball player from Rajshahi, went to father Jahangir Alam Ratan for business needs. Munnu was so impressed by little Shanta's batting that he advised him to enroll in the Rajshahi Cricket Academy that very day.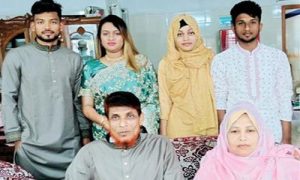 Shanta's father could not make a decision. It is the people of the village, and the academy is 20 kilometers away from home. However, Munnu was a no-nonsense person. Father Jahangir persuaded Alam and admitted Shanto to Rajshahi Cricket Academy on the same day.
Born in Ranhat village of Paba upazila of Rajshahi, Shantar's journey to become a cricketer started from that. One of the 15 dreamers of Bangladesh in this World Cup is Shant. Due to the recent form, Bangladesh is dreaming of great things with the bat of Shantar in the World Cup.
Volleyball player Munnu Shanto was handed over to Rajshahi Cricket Academy by coach Jamilur Rahman Saad. However, due to time constraints, coach Golam Rabbani Himel and Rafiqul Islam were given the task of coaching Saad Shantar. Today's Nazmul Hossain became calmer in their intensive training.
In 2010, Shanto batted brilliantly in the under-14 competition. Also played in Under-15 Challengers Trophy held at BKSP under National Cricket Board in 2012.
There, he caught the attention of the selectors and went to play for India under-15. He also scored a hundred in that tournament. Later in 2015, Shanto scored a double century in one of the two matches and 196 runs in the other in the divisional cricket tournament. The next year he played the U-19 World Cup.
Shantar made his debut in Bangladesh Premier League (BPL) in 2016 for Comilla Victorians. The following year, Mizanur Rahman scored a record 341-run opening partnership for the Rajshahi division against Dhaka Metropolice in the National Cricket League. In the 2017-18 season, he was the tournament's best run scorer in the Dhaka Premier Division Cricket League.
Shantar made his Test debut on January 20, 2017 against New Zealand. Later he made his debut in ODI against Afghanistan in December 2018 and T20 against Zimbabwe in September 2019. Shanto scored 1283 runs in 23 Tests, 967 runs in 31 ODIs and 566 runs in 25 T20s for the national team.
Father Jahangir Alam said, 'I had no idea about sports. When Shanta was a child, our village was very remote. There were no roads. My 10-year-old son used to cycle 40 km to the academy. School from morning till noon, then academy. Returned home in the evening. Since childhood, he was quiet, intelligent, and had a strong sense of discipline.
From that time I dreamed of him becoming something big.
Shantar's coach Golam Rabbani Himel said, "His extraordinary batting talent was seen at first." At that time, we believed that Shant would play at the top level. Another coach, Rafiqul Islam, said, Shant was very hardworking and different from everyone else. He was always eager to learn. He had to overcome many limitations. He has the commitment it takes to establish himself as a good player
​