The Padma Bank with the cooperation of other Govt. and Non-Govt. ba­­­­nks of Bogura has arranged school banking conference'2023 for the students' financial education at Shaheed Titu Millanayatan in Bogura town on Saturday morning.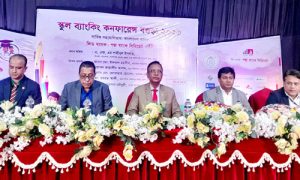 Under the financial education program of Bangladesh Bank, School Banking Conference was held with the participation of students of different educational institutions from Bogura district to create awareness on School Banking so that they can be enriched with the banking knowledge as future generation.
The conference was inaugurated by the invited guests releasing placards with balloons, doves followed by the discussion on financial education highlighting on how to initiate savings using modern technology.
Executive Director (ED) of Bangladesh Bank and President of Bankers' Club Bogura, A. F. M. Shahinul Islam, was present as the Chief Guest at the conference organized by other 46 scheduled banks of the district.
Deputy Managing Director (DMD) Faisal Ahsan Bank gave welcome speech on behalf of Padma Bank as the lead bank of the occasion.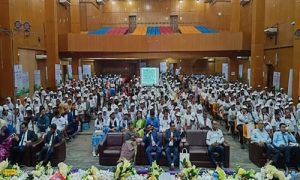 Md. Iqbal Mohsin, Additional Director, Bangladesh Bank and Muhammad Jahangir Alam, Joint Director, Bangladesh Bank, Zonal manager of Rajshahi Krishi Unnayan Bank (North) Shahinur Islam and Md. Hazrat Ali, District Education Officer, Bogura graced the event as special guests.
Rokibul Hasan Chowdhury, Head of Retail and SME, Shayantani Twisha, Head of Corporate Affairs and Brands and Nafisa Ara, Head of Segments were also present at the occasion.
At the conference, students highlighted their own savings experience. Besides, teachers also participated and shared their views. A rally was organized from Shaheed Titu Auditorium that marched on different roads in the city to raise awareness about school banking.
The speakers hoped that the use of modern tech Bangladesh Bank, which will be made success by the new generation. The school banking conference-2023 ended with cultural event and quiz competition.