Superintendent of Police of Bogura district Sudip Kumar Chakraborty BPM has been selected five times best SP for keeping extraordinary achievement against Terrorism and Crime, Drugs and Weapons Recovery, Arrest of Listed Drug Dealers, Uncovering Various Sensitive Cases, Fair Traffic Management, Maintaining Law and Order, Disposal of Cases, Providing Services to Women, Children, Elderly and Disabled Service Desk in Rajshahi Range within nine months.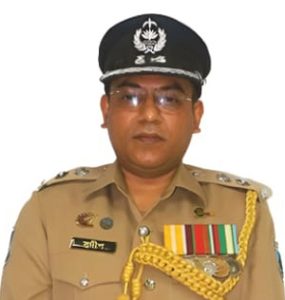 A monthly crime review meeting presided over by Deputy Inspector General (DIG) of Rajshahi Range Md Abdul Baten BPM PPM for the month of April -2022 was held in the Padma Conference Room of Range DIG's office on Wednesday.
After the meeting DIG handed over the crests to the brilliant officers.
Besides, Additional Superintendent of Police of Bogura Sadar Circle Md Sharafat Islam, best Circle Officer, Officer in Charge of Sadar police station Bogura Md Selim Reza, Inspector of Police (Investigation) of sadar police station Md Zahidul Haque, SI of Dhunat Thana Asaduzzaman have awarded as the best officers.
SP Sudip Kumar Chakraborty said, "We are committed to building a safe Bogura by eradicating crime by introducing people friendly police system." I have worked tirelessly to maintain law and order in the district despite the various obstacles during the Corona pandemic." SP added.