Grand Master Parade was held at RMP Police Lines. The parade was held on Sunday at 8 am.
Md. Abu Kalam Siddique, Commissioner of Police, RMP at Police Lines received the salute at the Grand Master Parade. After inspecting the parade, the Commissioner of Police inspected the vehicle branch of RMP Police Lines.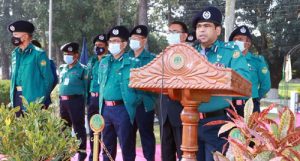 In his speech, he gave necessary instructions to all concerned to look after the welfare of the force. The Corona virus instructed everyone to be aware of the Omicron variant as well as to ensure that police station compounds, including police lines, are kept clean and tidy.
Additional Commissioner of Police (Crime and Operations) Md. Majid Ali BPM, Deputy Commissioner of Police (Headquarters) Md. Rashidul Hasan PPM, Special Superintendent of Police Mr. AFM Anjuman Kalam, BPM-Bar, Deputy Commissioner of Police (Shahmakhdum) were present among others. ) Muhammad Saiful Islam and other senior RMP officials and other members of the police.