Warm clothes distributed among cold hit poor and ultra-poor people by Kurigram Press Club at 3.00pm on Wednesday (January 26).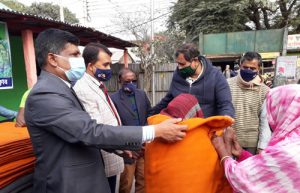 Deputy Commissioner of Kurigram Mohammad Razaul Karim was present as the chief guest in the warm clothes distributing ceremony while Press Club president advocate Ahsan Habib Nilu was presided.
Press club secretary Ataur Rahman Biplob,Senior reporter Motlubur Rahman Shafikhan,RajuMostafiz, Abdul Wahed, Staff Reporter of Daily Asia Golam Rabbani, Mahfuzar Rahman Tutor, M. Rahman Ranju, Masud, Monu were present among others.
The speakers said the warm clothes will very helpful to the cold hit poor people.