The leaders of different labour unions have strongly protested the transfer order of present deputy director of the department of labour, Bogura Alamgir Kumkum from human chain at Satmatha in Bogura on Friday afternoon.
The speakers from human chain demanded the cancel order of the transfer and mentioned that the officer Khorshed Alam whom was replaced in the post of Alamgir Kumkum is a very corrupted officer who has no well relation with the leaders and general members of Bogura.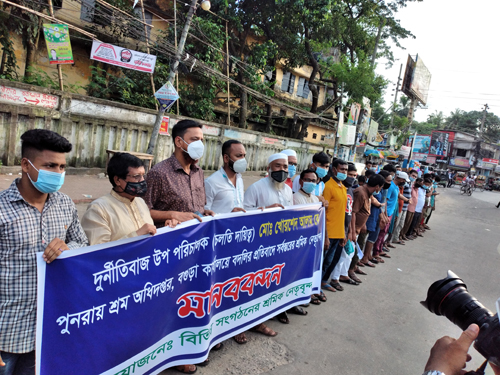 General secretary of Jatiya Sramik League, Bogura district unit Samsuddin Sheikh Helal said that present DD Alamgir Kumkum is very labour friendly and an honest officer  and he always tries to stay beside the labours of the under the region al office. So, the speakers demanded reconsideration of the transfer order of the DD labour officer Bogura.
The speakers were district hotel union president Shah Alam, member secretary of northern hotel restaurant Momen Mandal, Bekary sramik union president Ahsanul Islam Kuddus, rickshaw sramik union president Latiful Bari and others.
The human chain was presided over by sramik League president Md Abdus Salam.